If you are changing the URLs of your web pages – either through site consolidation, new page names, or a redesign of your site – there may be a good chance that you're shooting yourself in the foot by not properly using 301 and 302 redirects.
What is a redirect?
When pages get moved (their URLs change) search engines will lose track of those pages and no longer pass any authority or traffic to them. A redirect is a way to tell browsers and search engines that a page has moved.
Here's why they are vital to SEO.
Let's say a page on your site, "/apple-peeler-madness/", has 14 inbound links from other sites and ranks #4 for the term "apple peeler." One day you decide that you're going to rename that page's URL to "/apple-peeler/". You make the change, update your navigation to link to the new URL, dust your hands off and go on about your day.
But that old URL, "/apple-peeler-madness/" is no longer valid. Anyone going to the old page now gets a 404 error page. Including search engines.
Suddenly those 14 other sites that linked to your page are no longer passing any authority to your site because they are still pointing to the old page that no longer exists.
Soon, search engines realize that the page no longer exists, so they simply remove the page from their index.
Boom, your #4 spot for a target keyword is gone.
Types of redirects – 301 and 302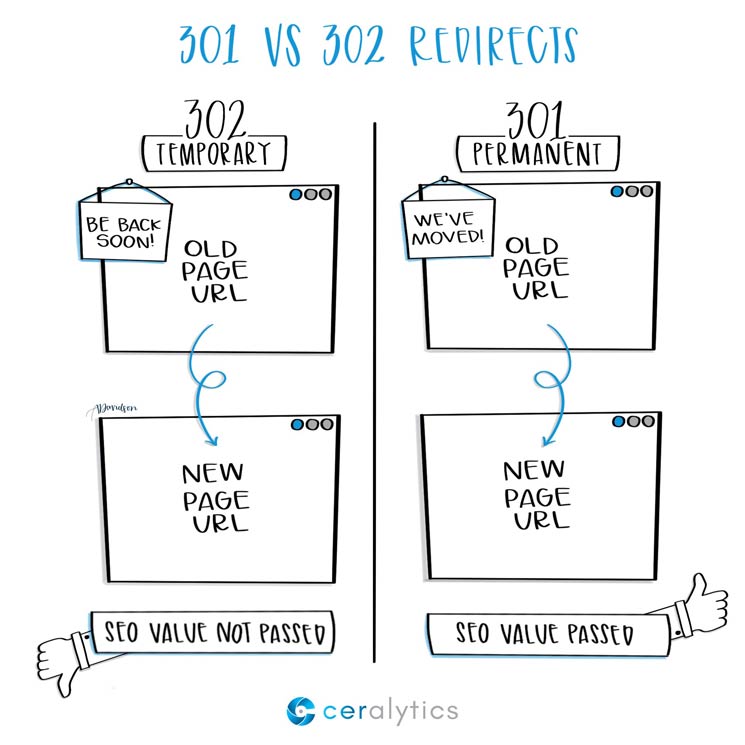 There are two main types of redirects:
301 permanent redirects
302 temporary redirects
While they have the same effect – taking someone to the redirected page – their impacts on SEO are night and day.
302 temporary redirects
302 redirects are temporary. They represent a "Be Back Soon" sign on your page, telling the world that the page is just down for a little bit.
Sometimes 302 redirects are put up when maintenance is being done on a section of a site and the site owner doesn't want people to hit a nasty error page. So they temporarily redirect them to another page on the site.
When a user encounters a 302 redirect, they're just taken to the redirected page and usually don't notice anything odd.
When a search engine encounters a 302 redirect, it assumes that page will come back. So it waits. It doesn't de-index any pages or update anything. It just waits for that page to come back.
If you're not intending on bringing that page back, the search engine will just keep waiting and not immediately pass the SEO value of the previous page to the new redirected page.
In other words, search engines just sit at the entrance to your store and look at the "Be Right Back" sign. They don't follow the new address you've left on the sign for the new store around the block.
301 permanent redirects
Unlike 302 redirects, 301 redirects imply immediately that the new redirected page is a permanent replacement for the old page. It's the equivalent of a "We've Moved!" sign at an old office.
Like 302 redirects, users will have the same experience of being redirected to the new page.
But when search engines encounter a 301 redirect, they immediately know that the old page isn't coming back, and that all of the link authority of the old page should be passed to this new page.
To pass the maximum amount of SEO value quickly to new pages from old pages, use 301 redirects.
Next steps
The next time you change the URL of a page, make sure you're keeping in mind that you'll need to redirect the old URL to the new URL.
If you're redesigning a website, make sure you have a page redirect spreadsheet to track the old URLs to new URLs that need to be redirected. The format of this spreadsheet is simply two columns, "Old URL" and "New URL."
This will help you keep track of what needs to be redirected.
When redirecting pages, try to redirect old pages to new pages that are about a similar topic or keyword. Redirecting a page about strawberries to a page about downhill skiing is going to be confusing to both users and search engines.
Using redirects will save your SEO when you make even small updates to a website. Always keep them in mind, because they have a huge impact on the success or failure of your website.


---
About Sketchalytics
Each week we send out a micro-lesson in marketing and/or business.
Our goal is NOT to give you best practices to go out and do what other people do. You can get that anywhere.
Instead, our goal is to give you knowledge that you can apply to your own organization to make the best decisions possible.
If you know anyone who you think would benefit from Sketchalytics, please feel free to share this with them so they can sign up.