The content marketing newsletters that every content marketer needs now.
Gaining traction in content marketing is getting harder and harder every year.
As content marketers, we need to stay up-to-date on the latest trends, what's working and not working, and the latest research that can help us stay ahead of our competition.
There are a lot of marketing newsletters out there, but we wanted to pull in those newsletters that really knock it out of the park for content marketers. These content marketing newsletters provide education, research, personal insights, and entertainment – making staying up on the latest trends easier, and more fun.
Here are our picks for the top 15 content marketing newsletters in 2020 (ranked alphabetically):
[UPDATE: We've updated this list based on the great feedback we received from our audience. These newsletters all feature original content from the authors, or their take on industry events. Purely curated newsletters are not included in this list.]
If you're not familiar with Ann Handley yet, go buy her book Everybody Writes – it's one of the best things you can do to make yourself a better writer. Then subscribe to her newsletter. Each newsletter is completely original content that she only shares with her subscribers.
Christopher S. Penn is Co-founder and Chief Innovator at Trust Insights. He shares great stories and insights about marketing in his weekly newsletter. He's also one of the smartest marketing professionals alive. When it comes to analytics, predictive modeling, and AI, it's hard to find a better expert than Penn.
CMI is the defacto standard for content marketing newsletters. If you have a content marketing title, I believe you're required by law to subscribe (not really).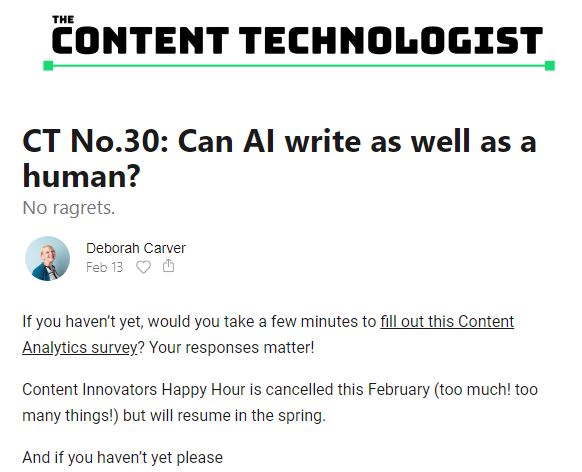 Deborah Carver's The Content Technologist covers new trends and technology in content marketing. Her newsletter does a deep dive into each trend and she also does reviews of new content technology. Overall, if you're a content marketer who wants to keep up on the trends impacting the industry (and you enjoy this information with a nice slice of humor), The Content Technologist is a must-subscribe newsletter.
Jay Baer's ON newsletter cycles through the topics content marketing, social media, amplification, and social customer service. All relate to content marketing audiences. The Convince and Convert crew does an amazing job at pulling together some of the best stuff that happened during the week and digesting it into a single content marketing newsletter. Also, Jay's new book Talk Triggers is fantastic.
CopyBlogger has one of the largest subscriber counts in content marketing. The content focuses primarily on best practices in content marketing and writing. Some features are only available to members of Authority, Copyblogger's closed community.
The team at DigitalMarketer creates solid content around all aspects of marketing, from product positioning through advertising. Their newsletter is a brief of articles they've published, along with other freebies.
Scott Monty writes this great newsletter that goes beyond content marketing, often diving into the latest news happening in the world of social, AI, data analytics, and sometimes politics. Scott also shares his take with people on these top stories.
Mark Schaefer coined the term "Content Shock" back in 2014. He predicted correctly that content production would surpass content consumption. Aside from predicting the future, Mark also covers content marketing, social media, and the impact technology has on communications and human interaction.
Jay Acunzo gave Ceralytics the kick in the pants we needed to start something unique with our newsletter in his video, My Email Newsletter Sucks. Jay formerly wrote Unthinkable, but now has a monthly newsletter that focuses on creating subscribe-worthy content.
The content team at MarketingProfs does some amazing work – led by the previously mentioned Ann Handley. Their daily newsletter pulls together their site's new content into a simple newsletter.
Arguably one of the best places to learn about new trends in SEO, Moz has been dishing out great content through their community for over a decade.
Neema Kapoor's weekly newsletter focuses on a single topic each week, which Neema goes into detail on. Neema took over for Chad Pollitt, and has done a great job keeping the industry up to date on new trends.
Instead of focusing on best practices, our own newsletter focuses on marketing education. Sketchalytics is a single micro-lesson in marketing wrapped up in a single sketch, delivered to you each week. Each micro-lesson is about a topic that may be commonly misunderstood or very new to content marketers, and is explained in plain English.
Scott and Alison Stratten write the UnMarketing blog and co-host the UnPodcast. Their focus is on sharing best (and worst) practices on how to market to people in ways in which you yourself would like to be marketed and engaged.
Any that we missed?
Which content marketing newsletters can you not live without? If there are any that we missed, let us know below!