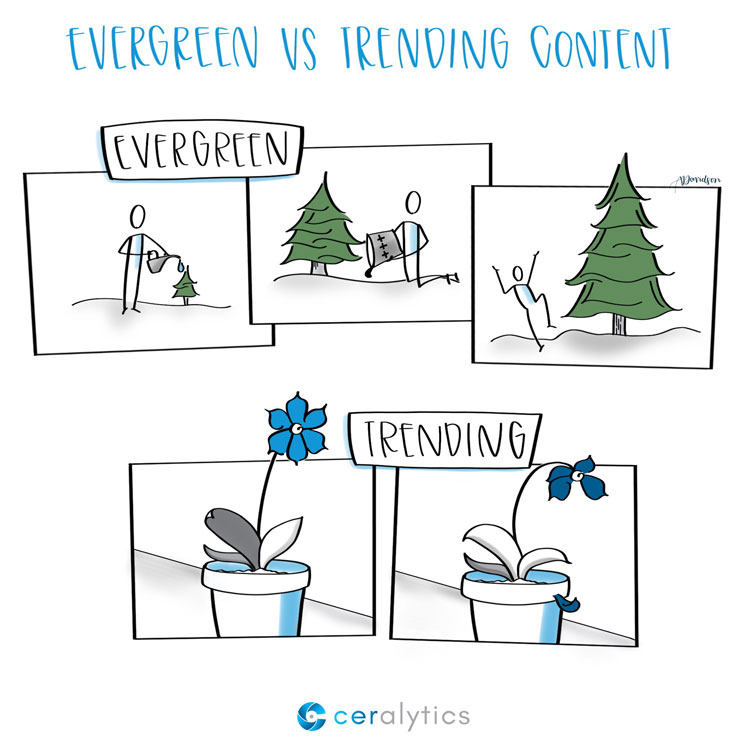 Most content you create will be evergreen content or trending content, whether you know it or not. However, knowing the difference and benefits of each can help you optimize your content strategy.
What is evergreen content?
Evergreen content focuses on a topic that is relevant now, and will still be relevant for years to come. While you may update small parts of the content over the years, for the most part it will withstand the test of time. It's playing the long game.
Evergreen content thrives via SEO. For as much as SEO professionals hawk the idea that search engines "love fresh content," what search engines really thrive on are pieces of content that fully explain a concept that can withstand the test of time. As time goes on, great pieces of evergreen content that have good engagement will rank higher and higher, driving more and more traffic to your site.
Because evergreen content can provide benefits to a site for years, evergreen topics/keywords are often highly competitive in search. Evergreen content has to be better than all other content about the same topic in order for it to truly perform well. That takes a large initial investment of time and resources into creating the content.
What is trending content?
Trending content is relevant now, but may be irrelevant in a week, or a month. Trending content will quickly become outdated, but in the short term it can create a huge spike in traffic.
News websites rely heavily on trending content. They try to break a story to get as many visitors as possible. If you're a brand, you can take a similar approach.
Some brands utilize trending content to newsjack a story, or to bring extra color to an industry event – such as writing about the 10 must-see speakers at an event.
The great thing about trending topics is that most have very little competition when they break. If you're early on a trending topic, you can be ranked highly in search engines with a minimal investment of time in your content. However, once the trend's spike drops, your traffic will too.
Benefits of evergreen vs. trending content
Evergreen and trending content are the ying and yang of content marketing. Each has their own unique benefits and downfalls.
Evergreen content is built to last, and can bring in new traffic for years. It often attracts inbound links over time, which increases the overall Domain Authority of your whole site, helping all of your other content rank well.
However, it takes a lot of work to create great pieces of evergreen content. It also takes a lot of promotion to get evergreen content noticed in the first place. Without an initial push to get it sprouted, even a great piece of content will stay a seed underground. Plus, after it's launched it may take even longer for that content to find a foothold in search rankings.
Evergreen content needs to be cared for and optimized for search over time to get the best results.
Trending content can quickly grab an audience for a short period of time. It can differentiate your brand as a cutting-edge leader, and piggy-back on other events to raise your brand's awareness to new audiences.
However, the 15 minutes of fame that trending content gets fades quickly. Once the trend passes, you will get little return from that content moving forward.
Focusing purely on trending content means investing heavily in new pieces of smaller content consistently without the benefits of ongoing search engine traffic that evergreen content gets.
Findings ideas for evergreen and trending content
Evergreen topics are usually found through competitive and SEO research. These topics may be short, medium or long-tail keywords you've identified through that research. We will shamelessly plug ourselves here. The Ceralytics content intelligence platform identifies evergreen topics in a variety of ways including those that are working best for your competitors, but where you have no presence. These content gaps make for some of the best evergreen content you have yet to create.
Trending topics can come from many different sources. Consider newsjacking events in your industry, like the example above about the 10 must-see speakers at an event. Or latch onto news within your industry, or in politics (if you like playing with fire), and put your own unique spin on them. The key is to be quick to market with these trending stories.
Where to post evergreen and trending content
Since it has large SEO benefits, evergreen content usually lives on a site that you own, such as your corporate site or blog. However, evergreen content can also be a guest post on other sites, which then either link back to your website, or feature your organization's branding so you can get more brand recognition.
Trending content may live on your site as well, but they can also live on rented platforms such as social media networks or shared spaces like Medium or Quora. Trending content could also just be a newsletter update to your subscribers. The key to trending posts is to get them out and promoted very quickly so you are first to market with the content.
How should you utilize evergreen and trending content in your strategy?
Your content strategy will help you identify the mix of evergreen and trending content you create.
Is your content strategy based on being the first to spot a trend? Does your company's reputation depend on that speed?
Or is your content strategy more devoted to creating longer pieces of industry-leading content and establishing yourself as a thought leader?
You may find that your content strategy leans more to one type of content than another. But that doesn't mean you have to be locked into that type of content for every post.
Next steps
Look at your content strategy and see where you can utilize evergreen and trending content to get the best results from your audience.
If you know that you're creating evergreen content, pay particular attention to optimizing it for SEO, since that will be the source of traffic for that content in the future.
If you are going to be focusing on trending content, make sure you have the resources and processes in place to turn spot trends and turn around stories quickly. A trending post could easily die waiting for multiple reviews from the c-suite.
---
About Sketchalytics
Each week we send out a micro-lesson in marketing and/or business.
Our goal is NOT to give you best practices to go out and do what other people do. You can get that anywhere.
Instead, our goal is to give you knowledge that you can apply to your own organization to make the best decisions possible.
If you know anyone who you think would benefit from Sketchalytics, please feel free to share this with them so they can sign up.