Influencer marketing is the process of leveraging influencers of a certain audience to share your content or mention your brand to that audience.
And it is very effective.
Influencer marketing can generate 11 times the ROI of traditional advertising. And while only 3% of people would consider buying a celebrity endorsed product, 30% would be more likely to buy a non-celebrity influencer endorsed product.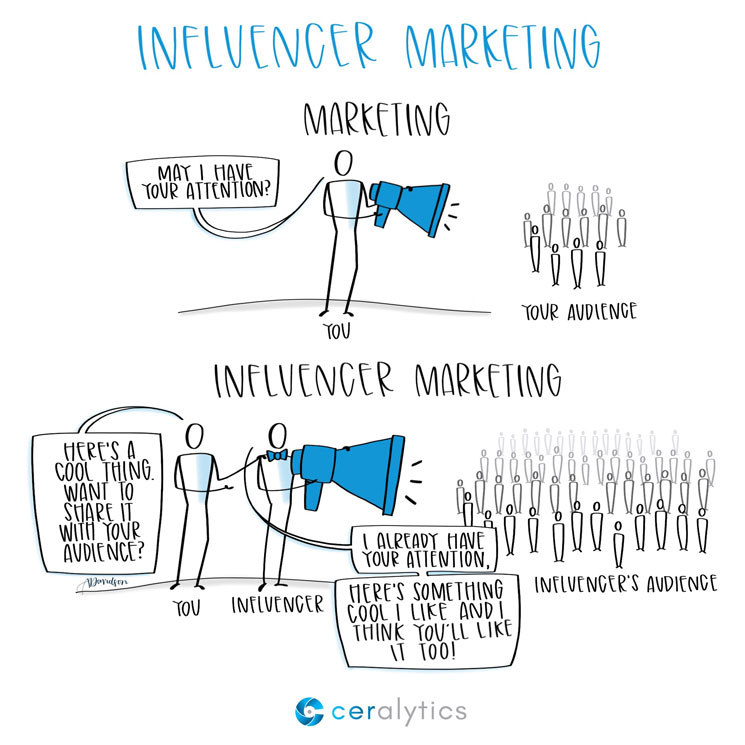 ---
What's an influencer?
An influencer is someone who has established credibility with an audience in a certain field. Nearly every industry has influencers whom others listen to and take cues from. These influencers can have huge audiences of millions of fans/followers, or they can also be micro-influencers who have a small, but very credible reputation with a specific audience.
Paid vs. organic influencers
Influencers can be paid to represent your brand and content, or they may be organic.
Some influencers may balk at being paid, or be very selective in whom they promote. After all, they've spent significant time and energy building their audiences. Those audiences are one of their most important assets. Keep that in mind as you approach influencers. Their audiences aren't targets for you to hit. They're people, and you better be delivering real value to them through the influencer.
Influencers who balk at being paid, or who are too expensive for your company to afford, may be won over with organic influencer marketing techniques. These techniques include:
marketing to the influencers through communities in which they play a major role
marketing through other influencers who may have a larger influencer's ear
creating content that targets that influencer to want to share it (spoiler: nearly every "40 under 40" or "Top Influencer" list you see is just bait to get influencers to share them.)
Some of the most important influencers you will have for your brand are organic influencers. These influencers genuinely like you, like what you do, and see the value you bring to their audiences. Their audiences may be big or incredibly small. But if they are influential with that audience, big or small, they can have a tremendous impact on your marketing efforts.
Symbiotic relationship
Unlike other paid sponsors, influencer marketing relationships are really founded on the idea of both parties helping each other out. The influencer gets just as much, if not more, value out of the relationship than you do. Strive for that.
When developing a new relationship with an influencer, do not ask for anything that's purely self-serving. This is one of the most common mistakes marketers make when engaging with influencers. Find ways that you can help them first. Some relationships will take a few weeks to develop, others may take years. Be patient.
Which influencers are right for your brand?
Before hitching your brand up to an influencer's wagon, you need to make sure of two things.
First, will this influencer be a positive representation of your brand? And second, is their audience the audience you want to target?
If you're a B2B organization in a niche market, trying to get Tom Hanks to be your influencer may not be a worthy investment of time and resources (unless you sell Zoltar machines…)
Identifying influencers
Some industries have big names that most others in the industry know. In content marketing, names like Jay Baer, Ann Handley, Joe Pulizzi, Robert Rose, and more are known around the industry. But others are up-and-comers who may not have the same status as the big names.
Try to catch stars on the rise. Pay attention on social media and see who's really leading a lot of the conversations in your industry. Who are the people that you see speaking at multiple industry events?
There are also software solutions for finding influencers, but most are just OK. However, Rand Fishkin's Sparktoro is taking a very different approach to influencer marketing that we're very excited about.
Next steps
Do you know the influencers in your space? What's your relationship with them? If it's nonexistent, figure out how to genuinely engage with them and build a relationship.
If there are a number of influencers in your space, influencer marketing may be a good fit to help accelerate your content marketing moving forward.
What do you think? Have you had success with marketing to and through influencers in your industry?
---
About Sketchalytics
Each week we send out a micro-lesson in marketing and/or business.
Our goal is NOT to give you best practices to go out and do what other people do. You can get that anywhere.
Instead, our goal is to give you knowledge that you can apply to your own organization to make the best decisions possible.
If you know anyone who you think would benefit from Sketchalytics, please feel free to share this with them so they can sign up.