When determining what topics to cover in your marketing efforts, one of the most important metrics to keep in mind is keyword difficulty. Keyword difficulty is an estimate of how hard it is to rank for a specific keyword on search engine results pages.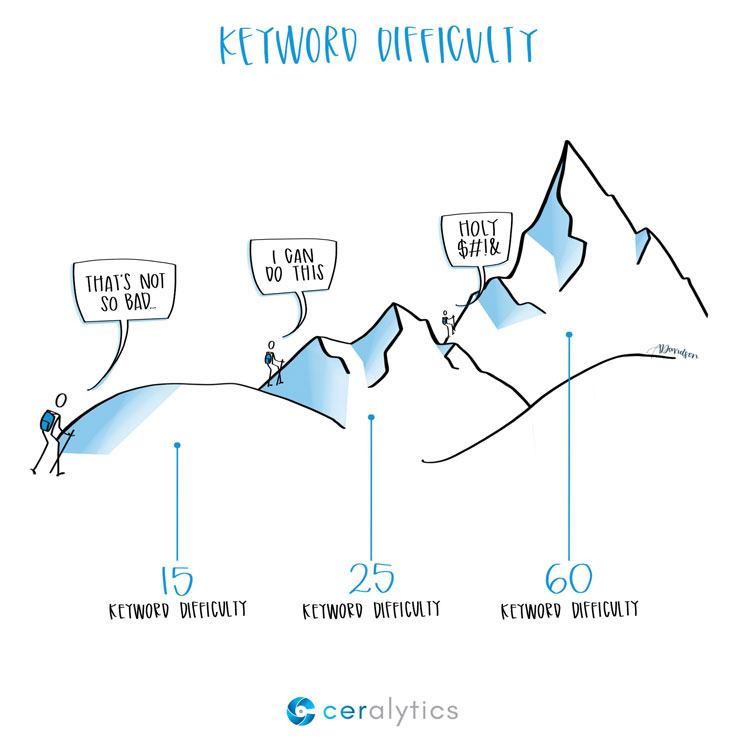 Scaling hills or mountains
Keyword difficulty scores usually range from 0 to 100. Lower scores represent keywords that are easier to rank for, while higher scores represent more difficult keywords.
A low difficulty score means that a piece of content you create that's focused on that keyword has a higher likelihood to rank well for that term. Higher difficulty scores mean it's going to be really hard to rank well for that term.
When selecting the keywords you wish to target, you need to find a balance between the terms that you can probably rank well for, and the terms that people search for the most. In short, it's all about finding keywords that aren't very difficult, but still have good keyword volumes.
Why is this important? Because click-through rates on search engine results pages (SERPs) dramatically drop as positions go from 1 to 10 and beyond. At the time of this writing, content on page 2 of search results (position 11+) have just a 1% click-through rate. Yikes!
Here's an example:
Keyword A has a keyword volume of 100 and a difficulty of 15
Keyword B has a keyword volume of 10,000 and a difficulty of 75
On the surface, some people may target Keyword B because it has 100x the search volume. However, ranking well for that keyword may be nearly impossible if you're a small site. Of the 10,000 searches done for that keyword, you may get 0 clicks because you're not ranking anywhere close to even the top 50 results.
On the other hand, Keyword A has fewer searches, but with a lower difficulty, you may be able to rank really well for it. If you rank #3 for that keyword, you would probably be getting 10% of the clicks for that term.
Keyword difficulty can be two different things
Keyword difficulty is available in nearly every SEO tool and also within Google Ads Keyword Planner. But did you know that the difficulty shown in most SEO tools and in Google Ads Keyword Planner are actually measuring entirely different things?
Keyword Planner is built around paid search. The difficulty scores (Competition) in it are based on how hard it is to rank well with paid ads on search results pages. And by "how hard" we mean "how expensive." This difficulty metric is completely different than how hard it is to rank for that same keyword in organic search.
SEO tools usually show you how difficult it is to rank for a keyword in organic search. This organic keyword difficulty is calculated by analyzing the SERPs for a specific keyword in a specific location (usually by country). By analyzing the top results for a specific keyword, these tools can estimate how hard it would be to compete with those sites and pages that currently rank well.
When selecting keywords, be sure you know if the data you're using is measuring the paid competition or the organic competition. (In Ceralytics, we look at both, since long-term organic traffic is our main goal, but paid content can still be a solid distribution channel for a client's content strategy.)
Next steps
Do you have a list of keywords that your company is targeting? Look at their keywords' difficulties to see if you're targeting keywords that are well above your punching weight.
If you're a small site with little content and you're trying to rank in the top 10 search results for keywords with high difficulties, you may be aiming too high.
Instead, look for variants of the topic that may have lower keyword difficulties. While they may not have as high of a search volume, you have a better chance of rank higher for them. After all getting traffic from 10% of 100 searches is better than 0% of 10,000 searches.
---
About Sketchalytics
Each week we send out a micro-lesson in marketing and/or business.
Our goal is NOT to give you best practices to go out and do what other people do. You can get that anywhere.
Instead, our goal is to give you knowledge that you can apply to your own organization to make the best decisions possible.
If you know anyone who you think would benefit from Sketchalytics, please feel free to share this with them so they can sign up.