Ever since search engines started driving people to websites, people have been trying to manipulate them. In the process of that manipulation, some bad practices started going mainstream.
Search engines – specifically Google – started cracking down on these blackhat tactics, and dealt out penalties that could ban a website from appearing in search again.
Let's clear up what SEO is NOT, so you don't land yourself on the chopping block.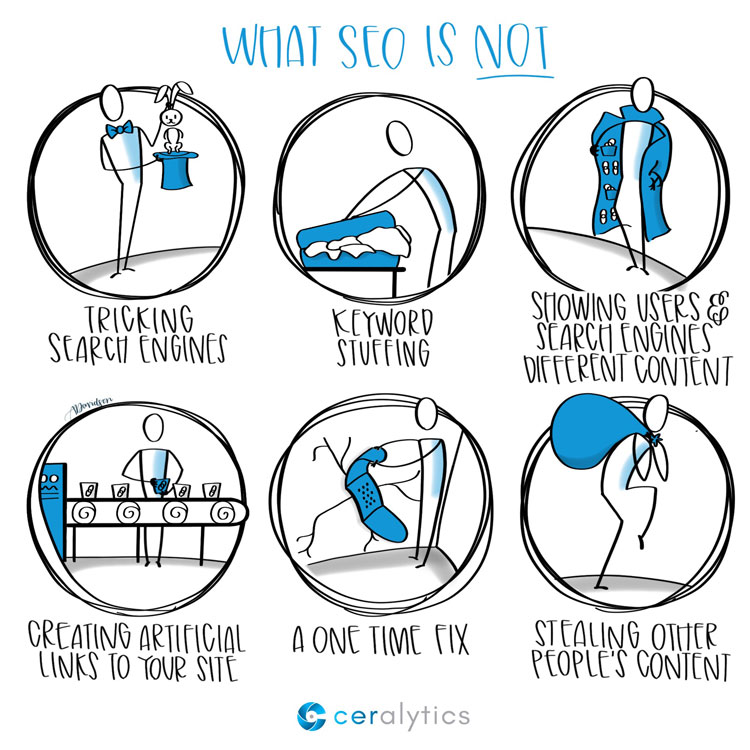 Tricking search engines
Search engines are trying to give their users the best experience possible. Proper SEO helps search engines do just that. Creating useful, well-thought out content that actually helps people will help search engines as well.
However, creating content that promises one thing, but delivers another deceives not only search engines, but users too. Be on the up-and-up with your content. If your content is titled "The Best Hot Dogs in Chicago," you'd better be delivering a list of the best hot dogs in Chicago, and not an add for a meal supplement.
Keyword stuffing
Back in the day, the more instances of a specific keyword you had in your content, the higher you would rank in search engines for that keyword. It became pretty easy to manipulate and was considered a fairly standard practice instead of a blackhat practice.
In 2003, Google released the Florida update, which penalized or banned websites that stuffed keywords.
If search engines think you're stuffing a specific keyword into your content, you could see your page, or your entire site, get penalized.
Instead, use your main keyword in your title, headline, and meta description once (or twice in the meta description). Then use your keyword, and variations of it, in your body copy at a rate that still feels easy to read.
Showing users & search engines different content
A tactic known as cloaking, used to be prevalent in SEO. It consisted of presenting search engines with different content than what users were presented. Search engines would think the page was about one thing, but when people clicked through to the page, they would land on something completely different.
BMW got caught doing this in 2006. The result: Their German site got banned from Google.
Always show search engines and users the same content.
Creating artificial links to your site
Inbound links are vitally important to search rankings. Each link is a vote from another site that your content is worthy of reading.
So what happens when you create a bunch of artificial links to your site, either by buying them or creating dozens, or even thousands of new sites and linking them back to your site?
Ask JC Penney.
In 2011, their entire site was severely punished by Google for creating artificial links to their individual ecommerce pages. The New York Times actually outed them, and Google took swift action. Now Google can sniff out these bad links themselves.
You can absolutely ask sites to link to you. You can guest post on other sites and link back to your own content. But don't go out and buy a bunch of links, or get involved in a link farm. If Google doesn't like what it sees, it can penalize or ban your site completely.
A one time fix
SEO is not something you do once and then forget about. It's a constant process.
Sites that don't continually optimize for search will surely get one-upped in search results in the future. If you have a competitive edge, you need to keep it. If you don't have a competitive edge, you need to utilize SEO to get it. It won't happen by itself.
While this isn't a blackhat practice, it's a common bad practice, so we included it. ​​
Stealing other people's content
Search engines recognize duplicate content, and will penalize sites that duplicate other sites' content without attributing back to the original author.
If you want to use another site's content on your site, first ask for permission. Once you have permission, make sure you attribute the content back to the originating site with a link such as, "This post was previously published at XYZ." You'd link that back to the originating post, so search engines will know you're not just trying to get credit for it.
---
About Sketchalytics
Each week we send out a micro-lesson in marketing and/or business.
Our goal is NOT to give you best practices to go out and do what other people do. You can get that anywhere.
Instead, our goal is to give you knowledge that you can apply to your own organization to make the best decisions possible.
If you know anyone who you think would benefit from Sketchalytics, please feel free to share this with them so they can sign up.